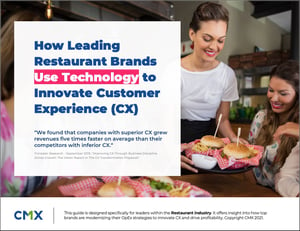 According to a Forrester Research report*, companies with superior CX grew revenues five times faster on average than their competitors with inferior CX.
Written for restaurant operations leaders, this guide provides insight into:
Why leading restaurant brands are modernizing their OpEx strategies.
How they're leveraging technology to digitally transform their operations for better visibility and agility.
The inescapable relationship between OpEx, Customer Experience, and happier customers.
Enter your details on the right to receive your free guide with real-world use cases featuring Buffalo Wild Wings, Firehouse Subs, Checkers and Rally's, and others.
*Forrester Research - September 2019. "Improving CX Through Business Discipline Drives Growth: The Vision Report In The CX Transformation Playbook"