FDA's New Traceability Rule Brings Tougher Requirements for Food Producers
The Food Safety Modernization Act (FSMA) came into effect in 2011, and since then, the aim has been to ensure that the US food supply is safe for consumption.
In 2021, the FDA announced the proposed rule for Food Traceability as part of their New Era of Smarter Food Safety Blueprint. This was in response to Section 204 of the FSMA which deals with food and supply chain traceability.
In addition to regulations already in place, under the Food Traceability rule, the FDA will require additional traceability recordkeeping for persons who grow, manufacture, transform, pack, ship, or sell foods on the Food Traceability List (FTL).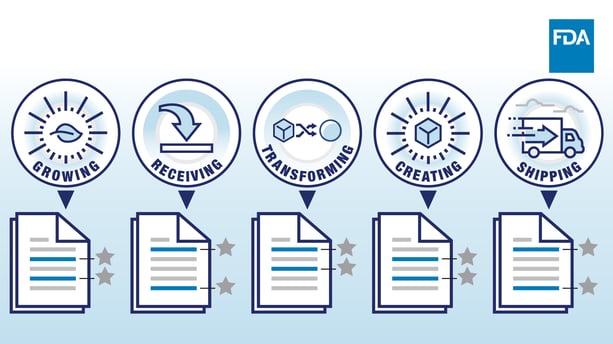 The FTL is a list of foods considered high risk—foods often associated with either outbreaks or recalls (these include foods like cheese, eggs, fresh melons, freshly cut fruits and vegetables, nut butters, and so forth).
The new rule also focuses on key data elements (KDEs) and critical tracking events (CTEs), which will set a foundation for end-to-end food traceability throughout the whole supply chain.

Recently, our CMO Jim Hardeman had the opportunity to talk to SupplyChainBrain about this new rule and what it means for the food producers and sellers. Here are a few interesting takeaways from the conversation:
Rule 204 imposes a broader standard—foods considered high risk will "now need to be tracked and traced by everyone that touches them".
The rule is also stricter concerning time—food producers must now be able to respond to the FDA within 24 hours of an outbreak or recall.
A few "certain small originators" are exempted from the rule, but it's not yet clear where exactly the FDA draws the line.
Penalties for non-compliance could amount to a substantial fine or even jail time.
With supply chains becoming more globalized and complex than ever, the new rule for food traceability is very much welcomed!
Read the full article on SupplyChainBrain here.
---
DID you know?
CMX is the first EQMS solution provider to integrate with the Mojix ytem™ platform, which allows item-level and lot code traceability when outbreaks of food-borne illness or recalls arise.
---