QualityX1 for quality management
Control quality more efficiently with product specifications, activities, monitoring & testing, and real-time reporting.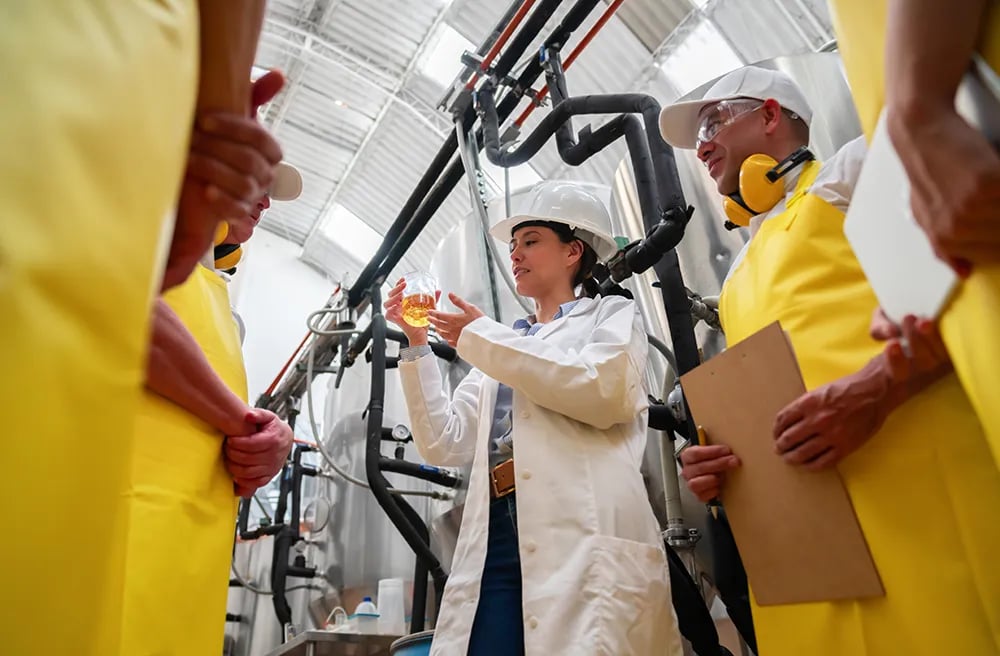 Powering everyday excellence in the world's most trusted brands
To achieve excellence, quality & safety must be a cornerstone concept of your product and service designs from the start. And once implemented, you have to stay on top of data management, with the right technology to scale your quality management practices. CMX1 equips you with the tools you need to design & control product and service quality, safety, & compliance so you can protect your customers today while innovating for the future.
SOLUTION CAPABILITIES
Unify workflows, systems, & people
Product specifications

Centralize all product information in a single platform to achieve consistency, compliance, & quality. CMX1 helps you more efficiently manage product specifications from ideation to approval—and every revision and variation thereafter. Our product specifications solution empowers teams to create, control, manage, and track all finished & raw material product specifications, formulations, & ingredients. Take advantage of features for workflow automation, task management, notifications, & supplier collaboration to automate the creation & approval process from initial draft to finalized status.

Monitoring

Maintain and continuously monitor product quality & safety. Whether receiving results from external labs via data feeds, performing product evaluations internally, or collecting inspections from partners, CMX1 stores all microbiological, chemical, sensory, physical, nutritional, and allergenic information in a single, consolidated view. Our monitoring solution provides visibility into ongoing product tests & results, flags high- and low-performing partners, identifies systemic issues that may require a change to the specification, and provides closed-loop corrective & preventive action workflows to ensure critical non-conformances are being addressed.

Temperature monitoring & integrated IOT

Further automate data collection. Integrate with sensor networks and seamlessly connect with Bluetooth Low Energy (BLE) devices, including barcode scanners, temperature probes, digital scales,  and other IOT devices.

Activity management

Eliminate the disconnect between standards and front-line execution. Ensure compliance by creating standards-driven activities & checklists and conducting audits, assessments, & inspections in one automated, integrated solution. Take advantage of our fully self-serviced visual-form builder, flexible workflows, automated assignments & scheduling, corrective & preventative actions, and web & mobile optimization for performing activities online or offline. 

Document management

Prevent wasted time & energy searching with a streamlined document repository. Our document management solution does the heavy lifting by automating the collection & storage of documents by key attributes. You can target brands & locations with the specific documents you need, and automate workflows & tasks against your requirements for documents, policies, acknowledgements, third-party audits, certifications, and more. 

Reporting & insights

Stop hassling with reporting that's disparate, hard to interpret, and lacking actionable insights. Our centralized reporting gives you a single-pane view complete with data visualizations, KPIs, PDF reports, and more. Additionally, our fully integrated, self-service BI reporting helps you democratize data, empower users across the organization, and understand performance at all levels of your organization.

Learn more >
"CMX1 has taken what was once a largely manual process across multiple systems at Raley's and enabled us to have a single solution with standardization and automation. With plans to expand our offerings, we knew we needed a platform that allowed us to scale our management and monitoring practices across product quality and food safety, regulatory and supplier compliance, and ethical sourcing."

SENIOR FOOD SAFETY AND QUALITY ASSURANCE MANAGER AT RALEY'S

"We consider CMX1 to be a game-changer. With it, we are better able to manage and maintain high-quality standards and consistency across all of our sports bars. And the intuitive interface makes it very easy for our team to develop and execute programs to ensure all sports bars are compliant and operating with consistency. The impact on operational excellence has been impressive and immediate."

DIRECTOR, BRAND OPS PERFORMANCE AT BUFFALO WILD WINGS

"The ability to automate tasks and workflows allows our quality assurance team to focus on building relationships with our suppliers, distributors, and franchisees, and make sure food quality meets our high standards."

VP OF QUALITY ASSURANCE AT CAPTAIN D'S