How to successfully implement the 7 principles of HACCP
In this article, we'll dig into the 7 principles of HACCP and provide guidance about how to successfully implement them.
But first, let's start with a quick recap...
Hazard Analysis and Critical Control Points (or HACCP) is a preventative method of managing food safety. It's a central component of a proper food safety management system and is applicable to all stages of the food chain - from start to finish.
The mission of HACCP is simple: provide a systematic approach to food safety to prevent and eliminate any physical, biological, chemical, or radiological food safety hazard. These hazards not only cause harm to customers but also irreparable damage to a brand due to loss of customer trust.
Download Resources for Implementing the 7 Principles of HACCP
What are the 7 Principles of HACCP?
The seven HACCP principles consist of: a hazard analysis, CCP identification, establishing critical limits, monitoring procedures, corrective actions, verification procedures, and record-keeping and documentation.
The 7 principles of HACCP were established in the 1990s, and although the food industries have dramatically changed over the last two decades, the principles remain just as relevant as ever.
Below, we'll review them in detail and explain why each one is essential so that you can prepare and implement HACCP principles into your Food Safety System.
HACCP Principle 1 - Conduct a Hazard Analysis
The first principle of HACCP involves conducting a hazard analysis: preparing a list of steps in the process where significant food safety hazards occur and describing the preventive measures you plan to put in place.
Thus, the goal of this principle is two-fold:
Identify potential food safety hazards that might harm consumers;
Define preventative measures that will reasonably control these hazards.
The first step in creating a HACCP plan involves performing a hazard analysis and then identifying the suitable control responses. But what exactly is a hazard? The FDA defines a hazard as...
"...a biological, chemical or physical agent that is reasonably likely to cause illness or injury in the absence of its control..."
It's important to distinguish between safety and quality. In this process, a hazard is linked to safety concerns and not quality concerns. This principle focuses on hazards that are reasonably likely to occur in any of the following:
ingredients
raw materials
steps in the food production process
product storage
product distribution
final food preparation
A comprehensive hazard analysis is imperative for a HACCP plan to work, but what's considered a hazard in one retail location, may not be significant in another. Failure to identify any potential hazards, however, could render the entire HACCP system useless, regardless of how rigorously it is adhered to.
HACCP Principle 2 - Determine Critical Control Points (CCPs)
According to the FDA, a Critical Control Point (CCP) is:
"...a point, step, or procedure in a food process at which control can be applied and is essential to prevent or eliminate a food safety hazard or reduce such hazard to an acceptable level..."
In order to identify each CCP, a series of questions are asked with the CCP decision tree: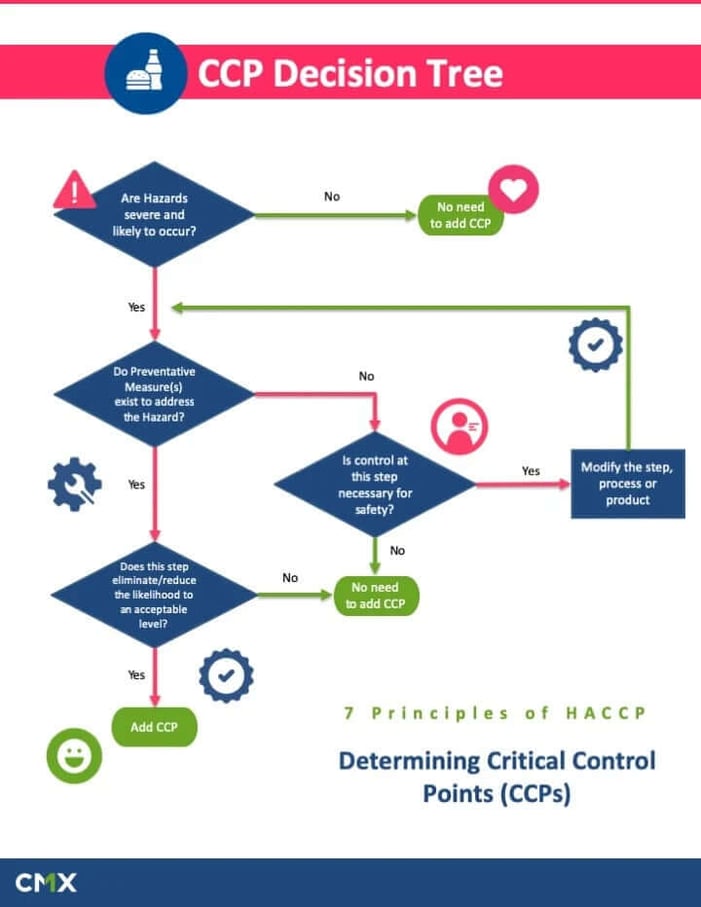 There are different types of CCPs within a process, but they all have the same purpose: eliminate the risk or reduce it to an acceptable level. Examples of CCPs include:
A thermal process (with time and temperature limits) designed to destroy a specific microbiological pathogen;
Sanitation Standard Operating Procedures (SSOPs)
Recognizing and identifying high risk TCS (temperature control for safety) foods
Storage specifications (e.g., maintaining refrigeration temperature below a certain limit) to avoid growth and multiplication of hazardous microorganisms;
pH adjustments of foods to prevent toxin formation.
Going through the process, many find it difficult to determine whether a step is a critical control point or not. If a food safety hazard is likely to occur once control is lost at that step, then it is potentially a CCP.
HACCP Principle 3 - Establish Critical Limits
Once CCPs are identified, your team needs to establish critical limits (maximum or minimum values) that are necessary to maintain a safe environment and prevent, eliminate, or reduce food safety hazards to an acceptable level.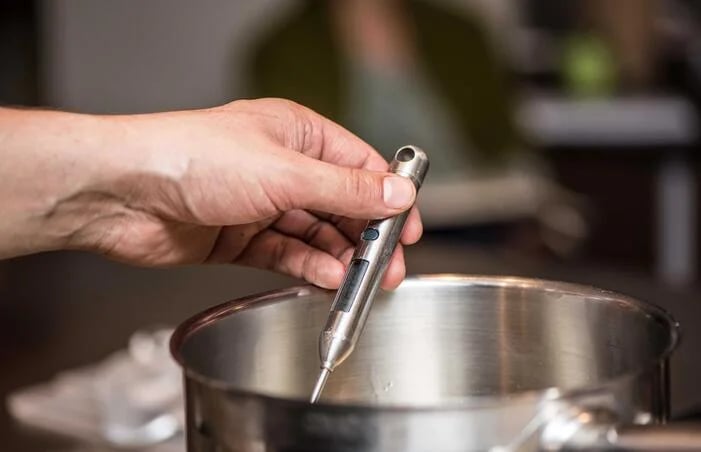 Critical limits must be based on scientific factors, guidelines, regulatory standards, experts, or experimental results. They include factors such as:
Humidity
pH
Salt concentration
Sensory information like visual appearance and smell (note that specialized training is necessary in order for this factor to be used successfully)
Temperature/Time
Viscosity
Water activity
Download Our HACCP Implementation Software Guide
HACCP Principle 4 - Establish Monitoring Procedures
Monitoring procedures are done to ensure that all critical limits are adhered to and that food is indeed safe. It provides you with an early warning should your process trend towards loss of control.
Ideally, this process is continuous and done electronically. Doing this will ensure increased accuracy, control, and visibility over the process as opposed to doing it intermittently and manually. It also provides documentation that can be used later for verification purposes.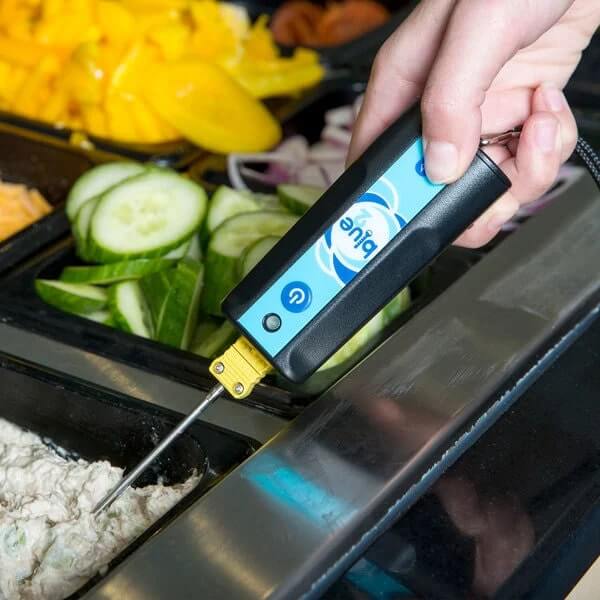 Monitoring a CCP is an important responsibility. Employees should be properly trained on the "why" and the "how". Once employees understand the impact of food safety hazards (e.g. outbreaks, product recalls, business closure, job losses, etc.), they are more likely to get on board with the HACCP plan. Make sure that all employees (including senior management) are clear on:
WHO will do the monitoring;
WHAT is being monitored;
WHY it's being monitored;
WHEN will it be done (i.e., frequency);
HOW it should be recorded;
WHERE these records should be kept.
To monitor critical limits accurately, equipment and instruments have to be calibrated and validated on a regular basis.
HACCP Principle 5 - Establish Corrective Actions
Undoubtedly, deviations will occur. Once a critical limit is exceeded, it's vital that corrective actions are taken immediately. There are two types of corrective actions, namely immediate (or reactive) and preventative (proactive).
Immediate corrective action could mean throwing out food that has been in the temperature danger zone or sending home an employee who shows signs of illness.
Preventative corrective actions on the other hand could include the repair of broken equipment or giving employees proper food safety training.
HACCP Principle 6 - Establish Verification Procedures
Once you have your HACCP plan in place, you need to make sure it works correctly. Verification can involve any activity, besides monitoring, that tests the efficacy of the HACCP plan and ensures that it's working as intended. This verification involves two primary aspects:
Evaluating the HACCP system – This component confirms that the retail location or facility's food safety procedures are properly functioning in conjunction with the HACCP plan. It shouldn't rely on end-product testing; rather, it should depend upon frequent reviews of the HACCP plan itself, particularly of the CCP monitoring and corrective actions.
Initially validating the HACCP plan for its technical and scientific merits – In other words, you can demonstrate that the implementation of your HACCP plan will actually reduce or eliminate the identified food safety hazards.
This can be done in several ways, including:
Reviewing scientific literature (e.g., previous studies that showed time/temperature combinations ensure the elimination of certain microorganisms);
Microbiological testing done on final products, produced under your HACCP plan (to show its efficiency);
Information from regulatory bodies.
According to the UK Food Standards Agency, practical examples of verification procedures include:
Taking temperature measurements at different steps of the process, ensuring that it is at the level you expect it to be;
Testing product samples during and after production, to ensure microbiological and chemical safety.
Ensuring that suppliers of raw materials adhere to food safety principles by means of external audits.
HACCP Principle 7 - Establish Record Keeping and Documentation Procedures
It's of vital importance to maintain proper records for all aspects of the HACCP system, particularly for auditing purposes. It allows you to keep track of raw materials, process operations, and finished products in your establishment. You will also be able to identify potential problem areas where deviations might occur. You should keep a record of the following:
1. A written hazard analysis summary;
2. The HACCP plan including:
Core team
Assigned roles and responsibilities
Description of the product, intended use, and consumer
Flow diagram
CCPs (how CCPs were selected, as well as the critical limits for each)
Hazards likely to occur during the process
Monitoring and verification procedures
Corrective actions
Documentation procedures
3. Secondary or support documentation
4. Documentation that occurs during plan's implementation and continued execution
For restaurants, hotels, ghost kitchens, and other retail food service establishments it's critical to establish a checklist and operational routines for each daypart and shift throughout the week to ensure your HACCP system and procedures are being followed. Continually verifying your HACCP system establishes and maintains "Active Managerial Control" and a culture of "Operational and Quality Excellence" that reinforces expected behaviors.
Read our Free Assessments, Inspection and Checklists Module Guide
Digitizing HACCP with CMX
Successfully applying the 7 principles of HACCP is a significant process for any business operating within the Food, Beverage, and Hospitality industries. And, as we've written about previously, an industry-wide trend is occurring where brands are ditching pen and paper-based HACCP plans in favor of going digital.
At CMX, the CMX1 platform helps you take your operational routines, quality, and HACCP-related procedures out of the Stone Age and bring them into the 21st century. Our digital operational execution platform utilizes modern technology and tools to:
Create and maintain policies and procedures
Increase productivity through automation
Ensure compliance
Expand visibility and control
Provide better and more accurate data
Alert you of potential hazards or critical limit breaches
Address corrective actions
Automate record keeping
Increase security
Get the Tools You Need for HACCP Checklist Management
Resources
Are you interested in embracing the future of digital HACCP? If so, reach out to us today and one of our experts can show you how.
Did you know that CMX1 isn't just for HACCP? Interested in learning more about why you should be ditching your paper checklists and automating all your operational routines? Visit our blog on the topic here or better yet download our eBook on the topic here.