Operations | Inspections | Auditing | Health & Safety
After an exhaustive search and evaluation, the Safety & Risk Team selected CMX ActivityStudio®
TWO MEN AND A TRUCK® is the largest franchised moving company in America and recently celebrated 8 million moves as a brand. Currently, there are more than 380 locations and 3,000 trucks operating in 45 US states with franchises also in Canada, Ireland, and the UK.
Founded in 1985, the privately owned company has ranked in the top 500 franchises in the US for 24 consecutive years and No. 1 in the moving/junk removal category for 3 years in a row, rated by Entrepreneur Magazine.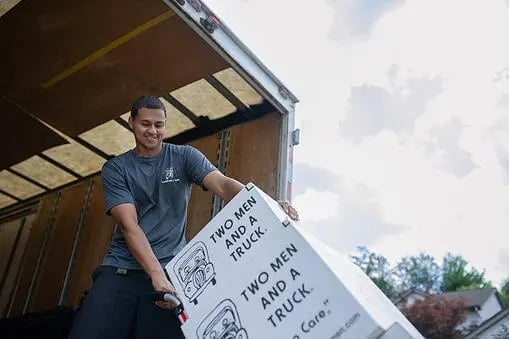 Focus on Safety a Key Priority
With core values that include giving back to the community and the 'Grandma Rule' – to treat everyone the way you would want your Grandma to be treated, it's not surprising that a key priority is to focus on safety.
After an exhaustive search and evaluation, reviewing more than 20 different options, the Safety & Risk Team selected to partner with CMX, implementing ActivityStudio® as part of the CMX1 Platform to provide consulting and training services for franchisees in the areas of Occupational Safety and Health Administration (OSHA) compliance and policies, Department of Transportation (DOT) compliance, general training and safety, and risk reduction.
"CMX1's ActivityStudio® supports franchisee data modeling," said Safety & Risk Team Lead Kevin McCullough. "This is helping our organization overcome some of the operational and technical challenges that arise with a completely franchisee-based model.

"I'm using ActivityStudio® to create policy manuals and am able to link questions there to content in the Safety Submission self-assessment. Having all our programs, content, and results in a single platform allows for the visibility needed to help our franchisees focus on continuous improvement."
Dashboard-driven key performance indicators for franchisees
Risk improvement self-assessments are performed by franchisees throughout the year and reviewed by McCullough's team. Other components of the Safety Submission program include the creation and distribution of monthly safety and personnel-related content, and assignments to franchisees. With the program fully migrated to ActivityStudio®, there are now dashboard-driven key performance indicators for franchisees each month and engagement in trend analysis using CMX1's integrated Tableau reporting.
ActivityStudio® enables organizations of all sizes to digitize their operating procedures and protocols for a systematic approach to achieving and maintaining Quality and Operational Excellence. Its drag-and-drop form builder and program design tools can be used to create and manage company policies, audits, self-assessments, inspections, checklists, and survey programs.
"TWO MEN AND A TRUCK® has an inspirational history and an exciting future," said Mitch Porche, CEO, CMX. "We are pleased to partner with an organization that started as a small, independent family business and has shown consistent, healthy growth over the last three decades. We look forward to seeing how CMX ActivityStudio® can help them accelerate growth while advancing a culture of compliance and safety."

The results
McCullogh (pictured) says it didn't take long to see the benefits of their investment in CMX1. "ActivityStudio® is already proving to be a huge stride forward for us in terms of ease of use and efficiency. The user experience, user interface and capabilities are far superior to everything else out there," he said.
CMX is a leading provider of Enterprise Quality Management Solutions (EQMS) for Supply Chain Management and Operational Execution.
For more information about this client story, or to read more CMX Client Stories, please visit www.cmx1.com or call 1-858-866-8888. You can also learn more about CMX and our team, here.