1250 outlets | 10 countries | 30 day rollout record
Buffalo Wild Wings, the largest sports bar brand in the United States and also operating in 9 other countries, scored a winner in its new partnership with CMX.
Buffalo Wild Wings (BWW), part of the Inspire Brands restaurant group, reviewed several vendor options but quickly narrowed down to just one solution that was able to address their needs 'out-of-the-box'. Honing in on the self-service and mobile aspects of the platform, BWW selected CMX's ActivityStudio® as the ideal solution to digitally manage company operating procedures and protocols, and execute audits, self-assessments, and checklists designed to ensure food safety, guest and employee health and safety, quality control, and compliance across all 1,250 locations.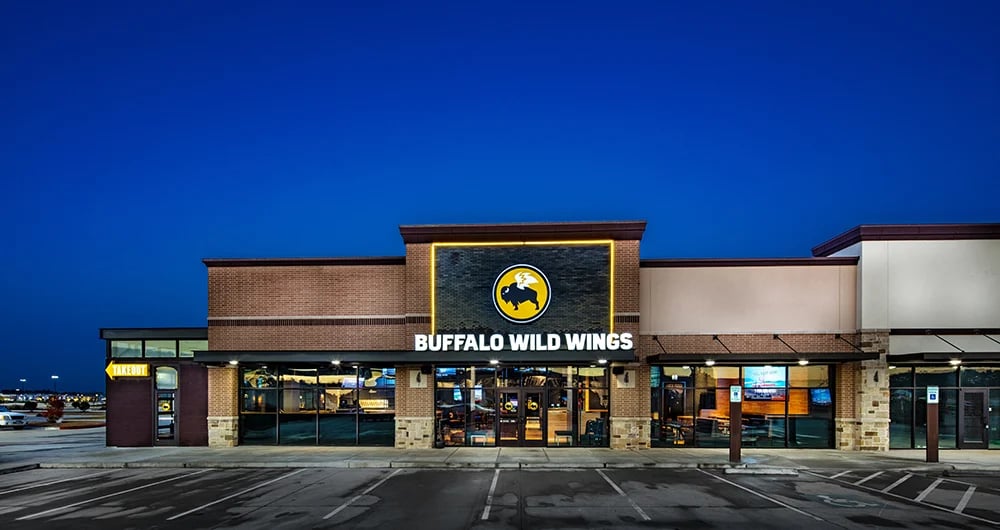 ActivityStudio® a #gamechanger
Using ActivityStudio's drag-and-drop form builder and program design tools, the team at Buffalo Wild Wings quickly developed and rolled out nearly 30 different activities, including six for international countries, within weeks after going live.
| | |
| --- | --- |
| | "ActivityStudio's intuitive interface makes it very easy for our team to develop and execute programs to ensure all sports bars are compliant and operating with consistency," said Drew Roberts, Director, Brand Ops Performance for Buffalo Wild Wings. "We consider ActivityStudio to be a game changer. We are better able to manage and maintain high quality standards and consistency across all of our sports bars." |
The activities are a combination of self-assessments performed by restaurant managers, and audits performed by "above restaurant" field operations for:
Brand Standards
Guest Experience
Food Safety and Temperature Checks
Back of House
Kitchen Equipment
Staff Development
Dining Room
Cleanliness
In-depth audits are conducted four times per year for each restaurant. ActivityStudio can detect if the restaurant missed a question from the last audit and any non-conformance issues lead to corrective actions to be completed by restaurant managers with review and follow up by the auditor.
Activities are being conducted both online and offline leveraging ActivityStudio's mobile web and native apps including IOS, Android, and Windows.
Overall, Roberts said the impact on Operational Excellence has been impressive and was immediate for Buffalo Wild Wings.
COVID-19 ready
While Buffalo Wild Wings didn't have a crystal ball to foresee a COVID-19 crisis, already having CMX1 and ActivityStudio® in place might have been the next best thing as it gave them the tools to respond proactively.
"We had to quickly evolve the business model overnight. We had to go from a large percentage of sales being dine in, to focusing more on delivery, carry out and curbside delivery. We used ActivityStudio® to very quickly design various evaluations to measure what we were doing well, and what we needed to improve on. ActivityStudio® was an integral part of getting us to where we are today, and finally getting our dining rooms reopened to be able to watch some sports and drink some beer while we're doing it."

Drew Roberts, Director, Brand Ops Performance for Buffalo Wild Wings
Endless opportunities
Buffalo Wild Wings are continually expanding the usage of ActivityStudio® across their business, and with intuitive, self-service tools a key feature, they're able to plan, implement and refine new programs without the need for costly, time consuming software customizations.
On a recent webinar with several of CMX's clients, Roberts said: "I don't know what we don't use ActivityStudio® for anymore. We use it for food safety, we use it for mystery shops, checks for execution… we're using it across every channel. We're learning that we can use CMX's platform to quickly assess and share results with the field - it's endless really."
A win for everyone
Mitch Porche, CMX's CEO, said the ability to go live in less than one month demonstrates the power of ActivityStudio.
"We're thrilled to work alongside our new client, Buffalo Wild Wings, to empower them to continually assess and improve operations and maintain the highest quality standards. Buffalo Wild Wings is now able to easily create, schedule, execute and manage repeatable activities to optimize the way they protect their customers and their brand reputation."
---
For more information and other Client Stories, please visit www.cmx1.com or call 1-858-866-8888.