CMX Named to Supply & Demand Chain Executive's SDCE 100 Top Supply Chain Projects for 2020
EQMS Innovator Recognized for Providing Superior Supply Chain and Product Quality, Risk, and Compliance Management Solutions to Restaurant Brands International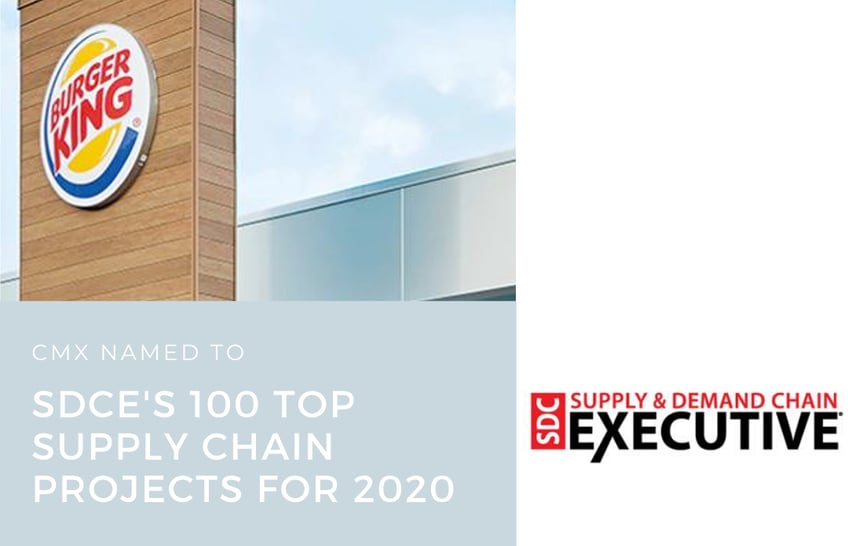 San Diego, Calif. – June 17, 2020 – CMX, a leading provider of Enterprise Quality Management Solutions (EQMS) for supply chain and operational execution, announced today that Supply & Demand Chain Executive, the executive's user manual for successful supply and demand chain transformation, has selected CMX as a recipient of an SDCE 100 Award for 2020.
The SDCE 100 spotlights successful and innovative projects that deliver bottom-line value to small, medium, and large enterprises across the range of supply chain functions. These projects can serve as a map for supply chain executives looking for new opportunities to drive improvement in their own operations. These projects also show how supply chain solution and service providers help their customers and clients achieve supply chain excellence and prepare their supply chains for success.
CMX was recognized for its work with Restaurant Brands International (RBI). RBI is one of the largest quick-service restaurant companies in the world, comprised of three of the most prominent and iconic quick-service restaurant brands including BURGER KING®, TIM HORTONS®, and POPEYES®.
RBI leverages the CMX1 platform, known as Supplier Performance Enterprise Quality (SPEQ), to manage its supply chain and product quality, risk, and compliance management programs across all three brands. The solution is used in more than 100 countries and U.S. territories and covers more than 25,000 restaurants worldwide. The implementation of CMX1 has had a significant impact on RBI's ability to manage and monitor supply chain quality, risk, and compliance as their business continues to grow rapidly.
"Innovation is essential in driving the supply chain industry forward, and thanks to these valuable partnerships, companies of all sizes are able to achieve success in projects that matter," says Marina Mayer, editor for Supply & Demand Chain Executive. "From business intelligence systems and supply and demand planning to inventory reduction and procurement solutions, the SDCE 100 offers proof-of-concept that with the right planning and execution, anything is possible."
About Supply & Demand Chain Executive
Supply & Demand Chain Executive is the executive's user manual for successful supply and demand chain transformation, utilizing hard-hitting analysis, viewpoints and unbiased case studies to steer executives and supply management professionals through the complicated, yet critical, world of supply and demand chain enablement to gain competitive advantage. Visit us at www.SDCExec.com.
About CMX
Leading brands including Burger King, Taco Bell, Sonic Drive-In, Bulletproof, General Mills, and Hasbro trust CMX's cloud-based Enterprise Quality Management Software (EQMS) CMX1 to help them achieve and maintain Operational and Quality Excellence. For over a decade, CMX has led the market with the most comprehensive, user-friendly, cloud-based EQMS platform for food and consumer brands. It's the only enterprise solution to effectively combine supply chain quality and operational excellence into a single, fully configurable operating platform.
For more information please visit www.cmx1.com or call 1-858-866-8888.