Why go digital for Policies & Standard Operating Procedures?
The last decade has seen a significant digital transformation push across practically every industry. This transformation has created the impetus for regional, national, and global brands to optimize their operations and achieve Operational Excellence.
The change has resulted in:

Increased visibility and oversight at scale
Improved operational execution and consistency of performance
Higher quality and safer products and services
The ability to adjust to changing market conditions faster (or pandemics!)
Superior Customer Experience (CX)
Significant cost savings
Few industries have been more impacted by this technological revolution than Retail Foodservice. Digital transformation has impacted everything from online ordering, to point-of-sale, temperature monitoring, HACCP Line Checks, and Above and In-Restaurant Audits.
But what about those dusty "Policy Binders" sitting on the shelf?
Today, our attention shifts to the benefits of digital technology for managing your Brand Standards, Policies, and Standard Operational Procedures (SOPs). We'll discuss how digitization can result in improved consistency of operational performance, better informed employees, increased customer satisfaction, and superior customer experience.
What are Brand Standards?
"Brand Standards" is a term used to describe the key touch points, processes, amenities, products, or services that define the customer's experience with your brand.
Brand Standards provide a picture of what your business is and, perhaps what it's not!
They provide employees:

A set of expectations and guidelines for how to operate the business, and perform a role, or task.
How to ensure consistency in your products, and how your guests are to be served.
They include everything that must be done (regulatory and voluntary standards) and everything that should be done - it's what makes your brand unique.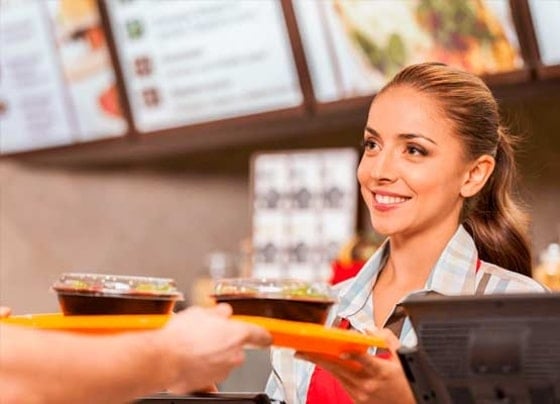 Your Brand Standards are an ethos, your "way to play", and what differentiates you from your competition. Simply put - Brand Standards are what make your business, your business. It's what makes Target, - Target and Starbucks, - Starbucks.
Your Brand Standards should be apparent for both first-time customers as well as loyal patrons. And realistically, it's part of the reason customers become fans and keep returning for more.
Your Brand Standards consist of several components:

Company branding, statement and messaging
Company Policies
Standard Operating Procedures (SOPs)
Voluntary and Regulatory Standards you comply with
Expected service and standards to measure agains
To bring your Brand Standards to life, you need operational procedures. To fulfill your "Brand Promises" you need Company Policies and Standard Operating Procedures and the ability to execute them consistently at scale.
The Importance of Policies and Procedures
Your Policies and SOPs are what turn your "Brand Promises" into a playbook for your locations and employees. It's the toolset to ensure an optimal customer experience, food safety, and consistency in your operations.
Policies and SOPs are used by restaurant chains to drive quality, and to ensure there is clarity in expectations and uniformity in work processes from one location to another. That consistency is what allows a customer to walk into any location, anywhere in the world, and have a clear idea of what to expect - each and every time.
In summation, SOPs are put in place to achieve consistent quality.
High levels of quality are essential to achieve Company business objectives. Quality, a source of competitive advantage, should remain a hallmark of Company products and services. High quality is not an added value; it is an essential basic requirement. Quality does not only relate solely to the end products and services a Company provides, but also relates to the way the Company employees do their job and the work processes they follow. The work processes should be as efficient as possible and continually improving.
Your Policies and Procedures create protocols and guidelines for employees to follow, so that they are able to maintain consistent quality, by simplifying complicated processes.
It's helpful to think of your Policies and SOPs as a living document rather than a sacred text.
Forbes writes: "Keep in mind, your SOP is a guide, not a bible — it's meant to influence, not command. SOPs address expectations related to quality control, company standards and the process for effectively completing projects." Your SOPs can and should be updated in order to augment and improve wherever possible. And this can be done by both management and employees.
In most cases, a restaurant's Policies and Standard Operational Procedures will be used to:
Outline expectations for employees from appearance to hygiene to HACCP procedures and safe food handling.
Provide guidelines for the various restaurant work processes including use of equipment, maintenance, chemicals, and pest control.
Define the "flow of food" including purchasing, receiving, storing, preparing, plating, serving and waste management.
Provide instruction on service and hospitality expectations when interacting with guests.
Instruct on how to deal with reports of foodborne illness, customer complaints, physical hazards, and respond to food recalls.
Define and govern brand specific programs for quality, safety, and compliance.
Outline applicable regulatory standards and how to comply.
Reinforce training for employees.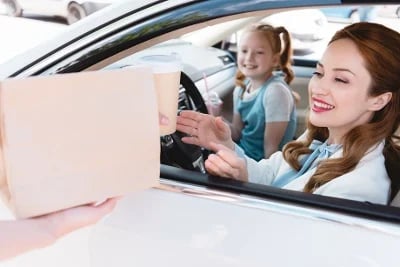 Without having Policies and SOPs firmly in place, the actions taken by the various employees in a restaurant would lack consistency. Some workers may be going about tasks properly, while others aren't. As you might imagine, this can create a variety of issues within the store. A customer's experience will vary from one visit to another, since it's completely contingent upon who's working that day.
This is a serious problem for just a single restaurant, but you can imagine on a global scale, the issues and inconsistencies can multiply exponentially.
The Downside of Manually maintaining your Brand Standards, Policies, and Standard Operating Procedures (SOPs)
Creating, maintaining, versioning, publishing, and, in some cases, printing and shipping all those binders is a big job (and expensive!). Keeping your content, locations and employees up to date with the appropriate and applicable changes takes a bunch of effort. Your content can be out of date just as soon as you ship it out!
For brands that have multiple concepts, or do business in multiple countries or regions, it can get very complicated and difficult to manage.
Digitizing Your Brand Standards, Policies and SOPs with CMX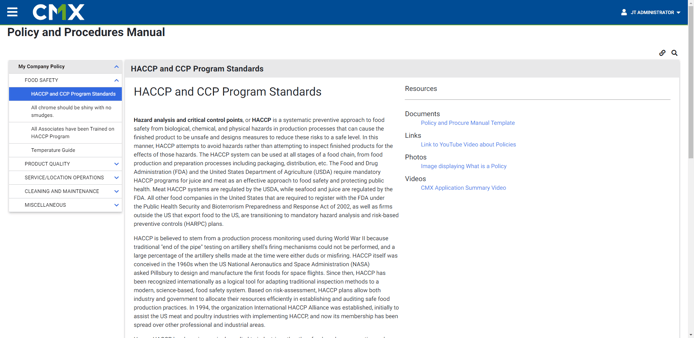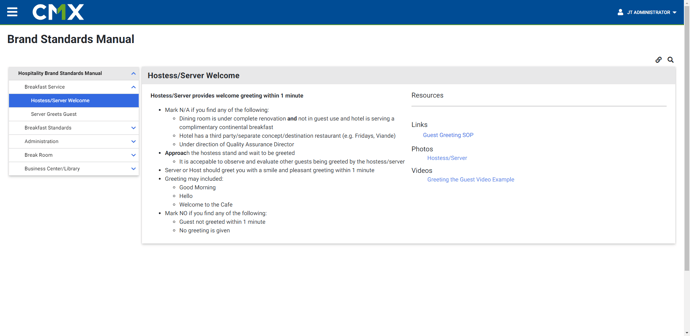 CMX provides digital tools to help organizations easily maintain and distribute their Brand Standards, Policies, and SOPs.
The

Policy

Studio module within our ActivityStudio® product includes the following capabilities:

Digital Authoring Tools with Support for Multimedia

PolicyStudio allows authors to easily create electronic, searchable Policy Manuals, Standard Operating Procedures (SOPs), and training documentation for company wide use. A rich text editor along with links to other resources, documents, videos, and photos - provide authors with the ability to provide team members with specific instructions, examples, and resources to complete any task.

Versioning, and Access Control

PolicyStudio includes intuitive features for content to be cloned and versioned. This makes it easier for writing an SOP for different user groups, concepts, or regions. Access Control allows content to be deemed only visible for various roles within your organization. Allowing users to only see what is applicable to their job function or location type.

Immediate or Scheduled Publishing

Content can be updated and immediately published across all your locations on the fly, or scheduled for a specific date and time. Scheduling allows your team to work on new updates and then release those updates to all parties when appropriate.

Web and Mobile Access

Once your content is published, PolicyStudio creates a unique URL that can be embedded into other websites and software applications (including ActivityStudio!). This allows employees to access relevant content quickly, rather than going into the BOH and looking for the DustyBinder™.

Integrated with ActivityStudio®

For customers who also utilize ActivityStudio® for Audits, Self-Assessments and Checklists - Policy and SOP content can also be visible within the context of a question. This allows employees to quickly and easily see what your standards and measurements are for that test, and how to assess an item.

Measuring compliance with your Brand Standards, Policies, and SOPs
Once you have your Brand Standards, Policies, and SOPs established, it's important to continually assess compliance. And CMX can help with that too!
There are several approaches brands take in measuring how well their employees are executing against their Brand Standards including:
Rely on Health Department Inspections and 3rd party audits.
These are all well and good, but don't help with what is happening in the time between those inspections and audits. We don't recommend that this is all you do!
Implement Digital Routines
Several of the brands we work with implement "Digital Routines" in their restaurants. These allow Team Members and Shift Leaders to utilize mobile devices and tablets to perform frequent tasks. Some examples include:
Opening, Closing, and Shift change procedures
Environment checks (dining room, bathrooms, parking lot, playground, drains, food labeling)
Cleaning and sanitizing routines
Measuring customer service (greeting customers, wait and service times)
Accuracy of promotional materials
Physical security
PCI Compliance for credit card machines
Perform Restaurant Audits
Firehouse Subs® is an example of how brands can utilize ActivityStudio® with their Above Restaurant Leaders to perform "Restaurant Audits". When assessing restaurant operations and restaurant routines, ARLs are typically looking at a variety of areas including but not limited to:
Brand and Operating Standards
Food Safety
Food Quality
Service
Facility
Employees
Combine with Restaurant Self-Assessments
Many leading brands also require their restaurants to regularly perform self-assessments. Buffalo Wild Wings, for example, uses ActivityStudio® for self-assessments and Restaurant Audits for its sports bars globally. Areas of evaluation include but are not limited to:
Guest experience
Food safety and temperature monitoring
Back of House (BOH) operations
Kitchen equipment
Staff development
Dining room environment
Cleaning and sanitizing
This approach can be very effective in comparing the results of self-assessments vs. ARL Audits. Brands can identify gaps, and areas of improvement in operations and communication.
Taking the next step!
Are you interested in digitizing your Brand Standards, Policies and SOPs? You can find out more information about ActivityStudio® and PolicyStudio here.
At CMX, we've worked with dozens of restaurant chains to digitally transform their operations and quality risk and compliance programs. We can help you too.
Reach out today and one of our experts will be happy to run you through the CMX1 platform and all it has to offer!