Global Supply Chain Quality And Compliance
Bloomin' Brands, Inc. (BBI), which includes Outback Steakhouse®, Aussie Grill®, Carrabba's Italian Grill®, Bonefish Grill®, and Fleming's Prime Steakhouse & Wine Bar® - is one of the world's largest casual dining companies. Bloomin' Brands was named to Forbes' list of the America's Best Employers for Diversity in 2019.
Multi-Brand | 1450 restaurants | 47 states, Puerto Rico, Guam and 20 countries
Fast growth | Complex operating environment
With multiple brands, 93,000 Team Members and more than 1400 restaurants throughout 47 states, Puerto Rico, Guam and 20 countries, it's safe to say BBI has a complex operating environment. Ensuring the quality, safety, and consistency of the food they source and serve is no small task.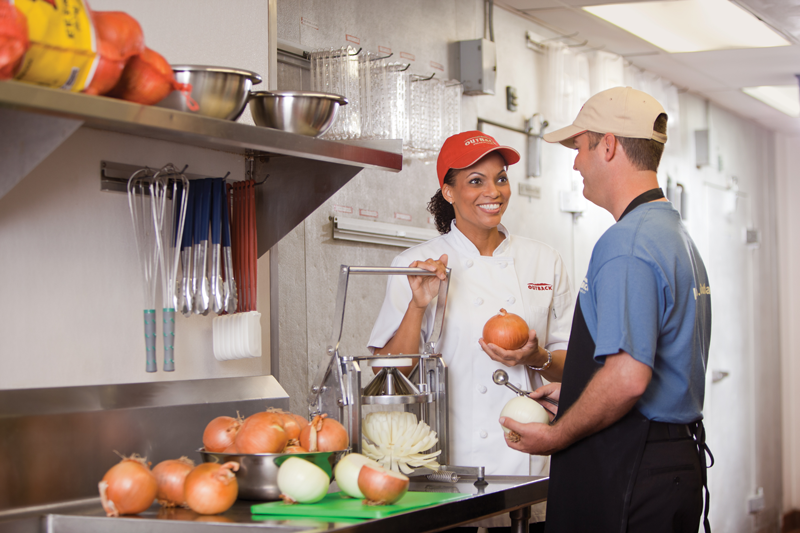 ---
Challenges faced:
Before CMX began working with the QA Team at BBI, they identified a number of challenges to address:
No single view of their supply chain partners, contacts, and compliance-related documentation.
Information was siloed and had gaps resulting in incomplete and inconsistent partner data.
Supplier Onboarding was largely a manual process and not standardized across the different chains.
The need for better record keeping.
Lack of work coordination, orchestration, and automation
How to scale their quality and compliance efforts as the business grew.
---
The solution
CMX began working with and launched BBI's Global Quality and Compliance (GQAC) solution in 2016 to manage supply chain transparency, compliance and quality.
"The Supply Chain Management solution from CMX provides BBI a common management platform for all our suppliers, products and quality and compliance programs across the globe. It gives us the tools we need to provide better oversight of our suppliers, as well as a new level of integration, automation and consistency that will allow us to scale our quality efforts as we continue to grow rapidly."

Lindy Miller, Sr. Director Supply Chain Quality & Product Innovation, Bloomin' Brands, Inc.
BBI leverages the CMX1 platform in the following ways:
Single source of truth
CMX1 provides a single source to manage and store all of BBI's supply chain master data including their Suppliers, Distributors, and Brokers. This includes their corporate offices, facilities, contacts, data, and related documents. Change Management controls allow for partners to initiate information updates, and QA Approvers review and accept those changes. These controls ensure the integrity and completeness of their master data.
Product Specifications
BBI uses CMX1 to author, review, and approve their product specifications across the 4 brands. The team is able to collaborate across regions, departments, and with suppliers to create data-driven specifications.
Specifications are created utilizing intelligent forms that can include header information, product formulations, processing control points, packaging, storage and shelf life requirements. Revision and Variation capabilities allow BBI to manage and track specification changes over time and keep impacted suppliers informed of updates.
Supplier Onboarding and Approval
CMX1 is utilized to coordinate the onboarding and approval process for adding new suppliers and facilities and approving those partners to produce specific menu item ingredients.
Partners interact with the system to provide information and documentation during the evaluation and approval process. The process includes the execution of legal agreements and the evaluation of supplier qualifications using a "desk audit". Product category and sub-category specific requirements dictate the collection of facility audits, graphics for labeling and packaging, nutritional values, certifications, and allergen declarations.
Workflow automation automatically assigns tasks to regional and departmental Subject Matter Experts (SMEs), who are responsible for reviewing and approving information and documents submitted during each step of the process.
Quality Assurance and Compliance
BBI also leverages the CMX1 platform to manage ongoing partner performance and product quality and compliance leveraging the following modules:
Document Management
BBI leverages CMX1's Document Management module to collect, manage, and maintain compliance related documentation. Automated notifications, tasks, and workflows ensure that documents that require signatures, acknowledgement, and/or renewal upon expiration, are kept up-to-date and organized for easy access. Automated record keeping provides an audit trail for each step of the process.
Facility Auditing | Corrective Action Preventative Actions (CAPA)
Through the use of CMX1's ActivityStudio® , BBI's QA Team performs Supplier Facility Audits when visiting supplier facilities. The audit is comprised of sections for Food Safety, Pest Control, Personnel Hygiene, Education And Training (GMPs), Sanitation Programs, Foreign Material Control , Raw Material Control, Quality Process Control, Environmental Control Systems, Product Complaints & Recall Procedures, Facility Conditions, and Food Security.
At the completion of the audit, suppliers are provided the results in the form of a .pdf report. Out of Compliance Observations are automatically turned into Corrective and Preventative Action Plans (CAPAs) to ensure closed-loop issue resolution and continuous improvement by partners.
Product Tests
BBI receives and incorporates test results from their 3rd Party Lab partner who performs ongoing Physical Product Tests for proteins. Labs are able to upload test results, giving BBI continuous insight and status on product quality and compliance.
Nutritional and Allergen Management
Additionally, CMX1 automates the collection and calculation of nutritional values and declarations for allergens for ingredients produced by one or more approved facilities for BBI. This information is reviewed and approved by staff nutritionists to identify risks. As product specifications, formulations, and suppliers change, these values are continually being maintained by the system.
---
Results
The implementation of CMX1 has had a significant impact on BBI's ability to manage and monitor supply chain quality, risk and compliance as their business continues to grow rapidly.
The primary benefits include:

A single system to manage all of BBI's suppliers, facilities, contacts, and documents.
Change Management controls for partner updates ensure integrity and completeness of partner data.
An automated and streamlined approval process for Supplier Onboarding.
The ability for BBI to manage their Product Specifications across all concepts across the globe.
Ability to conduct Facility Audits on mobile devices.
Automated Corrective and Preventative Action Plans for suppliers.
Task Management and work orchestration for all critical processes.
Automated audit trails for compliance, history and record keeping.
---
"It's been an honor to work with BBI and we're excited to be playing an instrumental role in their brand objectives. The team at BBI has strong commitment and clear vision for achieving transparency, quality and safety throughout their global supply chain. They have been a great partner, and the collaboration between our organizations has resulted in some important enhancements to our product offering. We look forward to continuing the partnership in the coming phases."

Mitch Porche, President and CEO, CMX
For more information and other Client Stories, please visit www.cmx1.com or call 1-858-866-8888.