How Firehouse Subs® Leverages ActivityStudio® to ensure
food safety, quality, customer service, and brand standards
Firehouse Subs® is a fast-casual restaurant chain with a passion for hearty and flavorful food, heartfelt service, and public safety. Each restaurant features firehouse-themed decor that celebrates local first responders while serving hot specialty sandwiches like Hook & Ladder and Firehouse Hero that are steamed and piled high with quality meats and cheeses.
Started in 1994 by brothers and retired firefighters Chris and Robin Sorensen, Firehouse Subs has grown to nearly 1,200 sites across the U.S., Canada, and Puerto Rico and generates more than $794 million in annual sales. After delivering food to relief workers and victims of Hurricane Katrina in 2005, the Sorensen brothers were inspired to launch a non-profit counterpart (Firehouse Subs Public Safety Foundation®), which has given more than $48 million in lifesaving equipment and resources to first responder organizations.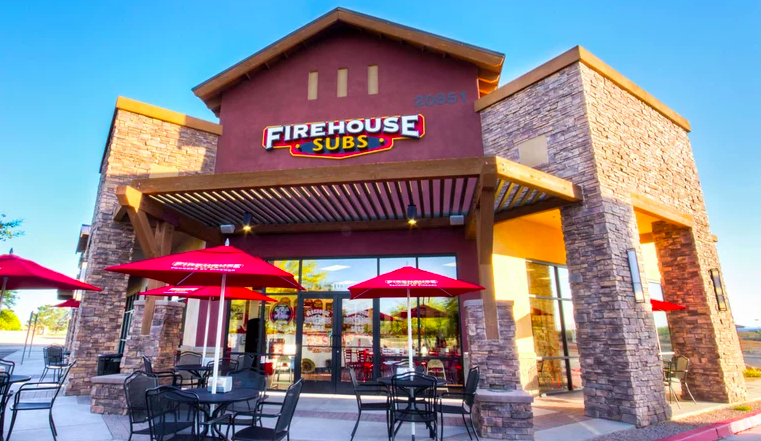 The Firehouse Subs brand has been widely recognized for its excellence in food quality and customer service and for being one of the hottest franchising opportunities in business. It was named the number one fast-casual restaurant chain in Newsweek's 2019 list of America's Best Customer Service Brands and was recognized by Forbes as one of the Best Franchises to Buy in 2018. The restaurant chain works hard to provide the highest level of excellence at every location, a mission that becomes both more important and more difficult as its franchise network scales.
Challenges Faced
One of the greatest challenges facing fast-growing restaurant chains is how to ensure brand consistency and quality control across locations nationally (or globally).
Eight years ago, Firehouse Subs adopted auditing technology to assess operational practices across all of its locations, but the platform lacked several key components, including:

Self-service tools for creating and managing forms related to standard operating procedures and food safety and quality compliance. The turnaround time and expense with their existing solution provider made it challenging to make changes and move quickly when adjustments were necessary.
Ability to centrally make and quickly distribute form changes to the field.
Flag repeat violations to identify and better support restaurants that were struggling.
Create distinct workflows, reports, and notifications for each program.
Configurable scoring and Corrective Action Preventive Action (CAPAs) workflows for each program.
Ability for auditors to work online or offline and on the device platforms of their choosing (Android, iOS or PC).
Customized reporting capabilities and visualization of results.
Visibility into individual restaurants and common issues across sites for executives and senior management.
After trying to work around the rigid technology, Firehouse Subs sought a more flexible and user-friendly quality management solution that better aligned with its current needs — one that could drive site-wide operational excellence and scale with the demands of a business in rapid growth.
The
Activity
Studio®
Solution
In late 2018, Firehouse Subs' Operations and Training teams selected and began migrating to CMX ActivityStudio® to enforce brand consistency and compliance with greater ease and efficiency across its growing number of fast-casual restaurants. It launched its new system in early 2019 and can now track quality control and food safety practices across its nearly 1,200 restaurant locations.
To date, the restaurant's internal team of nearly 150 internal auditors (called "Fire Marshals") have conducted close to 10,000 audits using ActivityStudio®.
"We chose to work with CMX because of their proven technology platform, innovative design and vision for ActivityStudio®. Since the technology went live, we've been impressed with how easy it is for our team to evaluate our results and make adjustments to our programs.

ActivityStudio® gives us the ability to make updates and implement them to our system immediately. That flexibility and agility is critical when it comes to food safety and quality, which are paramount to Firehouse Subs and our brand mission of excellence."

Tim Foster, Senior Manager of Training for Firehouse Subs
With ActivityStudio®, Firehouse Subs has digitized its standard operating procedures and can now more easily measure and track franchisee compliance. The system also gives senior management greater visibility into the performance of individual restaurants and as well as issues or trends occurring across locations.
"Although we moved from one electronic system to another, ActivityStudio® is a better platform and we are much happier with our ability to track site performance from headquarters and conduct audits and build action plans from tablets in the field. Our managers really appreciate how much easier the site is to use compared to our previous system."

Rich Goodman, VP of Operations Services for Firehouse Subs
Firehouse Subs uses ActivityStudio® in the following ways:
Ensure Compliance of Brand Standards and Standard Operating Procedures - ActivityStudio® is used by Fire Marshalls to conduct restaurant audits, which measure quality, customer service, food safety, and compliance against brand standards. Restaurant audits include in-depth "F.I.R.E. Reports" that take place six times a year, and ad hoc/drop-in "F.I.R.E." drills for targeted areas of improvement.
Identify Non-compliance Trends and Perform Corrective Actions - ActivityStudio® automatically flags repeat violations from previous audits to identify trends of non-compliance. Repeat issues factor more heavily into a restaurant's audit score. This capability has had a direct impact on behaviors on-site and is prompting much faster responses to address root causes and take corrective actions. Auditors are also able to sit down with operators to create proactive Corrective Action and Preventative Action plans for specific sites experiencing reoccurring issues.
"The repeat detection capability is having an impact on our culture and behaviors. We are seeing much faster response times in identifying and addressing root causes for issues, to avoid impacting subsequent audits.

Tim Foster, Senior Manager of Training for Firehouse Subs
Brand Development - Used by Firehouse Subs' real estate team, ActivityStudio® supports the inspection process for location remodels during succession from one franchisee to another. The system maintains checklists of the equipment needed and remodel action items. Site managers can document progress from their tablets and upload pictures to share project updates and status.
Data Analytics and Visualization – Combining the data collected by ActivityStudio® with Tableau reporting and visualization, the CMX1 Platform provides senior management with high-level insights into operations and risk at each restaurant. Executive leadership can now quickly and easily see the frequency of audits, results, and trends over time. This helping the team make data-driven decisions, and identify areas where resources, and procedures need adjusting.
Operational Excellence and Quality: Coming in Hot
In the quick-service industry, profit margins average around 6 - 9 percent, so any additional costs at the headquarter or franchisee level are heavily scrutinized. But for Firehouse Subs, peace of mind equates to return on investment.
"As we approach 1,200 locations, I couldn't even imagine trying to keep an eye on brand standards and food safety without a platform like ActivityStudio® in place. And for our corporate staff, be it at the executive or vice president level, to have this level of visibility into our opportunities and our strengths and areas that need improvement has been invaluable.

Because Firehouse Subs is constantly adding new Fire Marshals to help its growing family of franchise operators, it is important to have a system that is easy to teach so new auditors can get up and running quickly. And because the system is available as an app for offline work, it offers the portability needed to make it easier for Firehouse Subs' auditing and real estate teams to do their jobs from the field and provide management with real-time visibility into site-wide operations and quality."

Rich Goodman, VP of Operations Services for Firehouse Subs
Future Plans
Firehouse Subs is building on its success with ActivityStudio® with future plans for single sign-on support from its FireCloud intranet to provide users with centralized access to ActivityStudio® as well as to sales, rankings, and SMG guest satisfaction data. In addition, the restaurant chain expects to replace its paper-based policy and log books with a digital version managed by ActivityStudio®. This will allow for collecting daily temperature logs and updating policies and procedures in real-time.
"CMX is proud to partner with Firehouse Subs to help fuel their ability to exceed the expectations of an increasingly discriminating customer base while protecting and growing their brand. Their growth has been impressive – they have risen quickly to the top of a competitive market. We are committed to further enabling their success with ActivityStudio®."

Mitch Porche, CEO, CMX
For more information and other Client Stories, please visit www.cmx1.com or call 1-858-866-8888.