How leading brands are using digital technology to innovate customer experience
Considering businesses lose a whopping $75 billion each year due to bad customer service, is it any wonder that customer experience (CX) has become such a hot topic? Mix in the massive impact the pandemic has had on many businesses, now more than ever, a great customer experience can be the difference between a business that thrives or nose dives.
Customer experience is as important as product price and quality—in fact, they're largely interconnected. And digital technology is a major driver of CX. Companies that embrace digital technology are 26% more profitable than their competitors.
But why does it matter so much? And importantly, how can the best possible customer experience be consistently provided? In other words, is there a specific strategy that you can follow to draw more customers, and can you optimize your customer experience management?
Let's take a closer look at what several leading brands are doing to provide the best customer experiences and how they are leveraging digital technology throughout their operations.
1. Chick-fil-A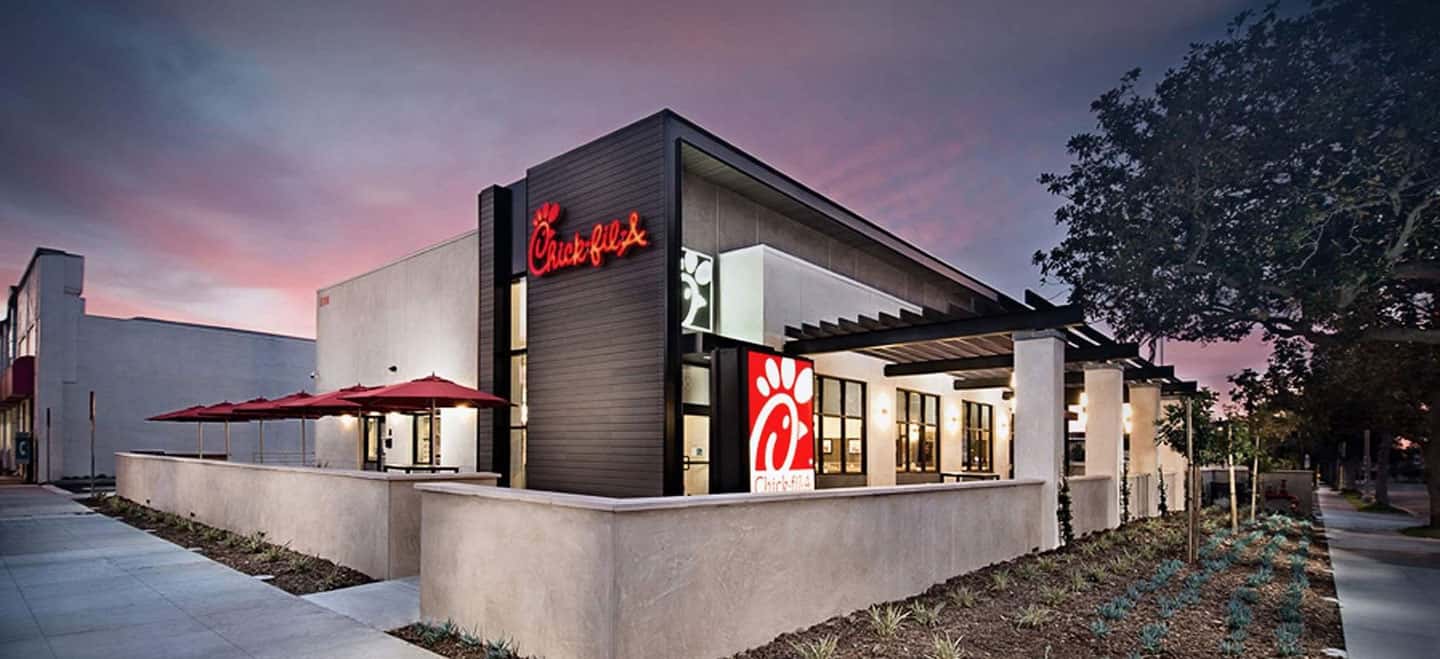 Chick-fil-A is one of the best in the business when it comes to customer experience. They serve delicious food and have consistently earned top spots for customer satisfaction for years. The stats speak for themselves: a survey of 20,000 U.S. customers saw Chick-fil-A score an astounding 9.08 out of 10 for Best Customer Service in 2020; they ranked 1st in their own category of "Fast-Food Restaurant Chains", and 5th across all 480 companies and 160 retail categories that were surveyed! For the past seven years in a row, Chick-fil-A has also ranked number one in the American Customer Satisfaction Index's Annual Restaurant Report.
So, what's their secret?
Here are a few pointers:
Chick-fil-A creates a

culture of engaged employees

. The more employees engage with customers, the more valued customers feel, and the better the customer experience.

Customer service

,

employee politeness, and

store cleanliness

are major focus points for Chick-fil-A stores.
Chick-fil-A has

specific standards

that guarantee locations all across the US maintain the same level of quality and customer service. In other words, consistency is a high priority. This means customers always get a high in-store experience, no matter where they dine.
Also, new franchise owners receive a LOT of leadership training prior to their restaurant's opening, which guarantees the delivery of a consistent Chick-fil-A experience. Notably, Chick-fil-A makes use of an industry-leading digital platform that ensures internal brand consistency (e.g., self-assessments, audits, and checklists).
2. Firehouse Subs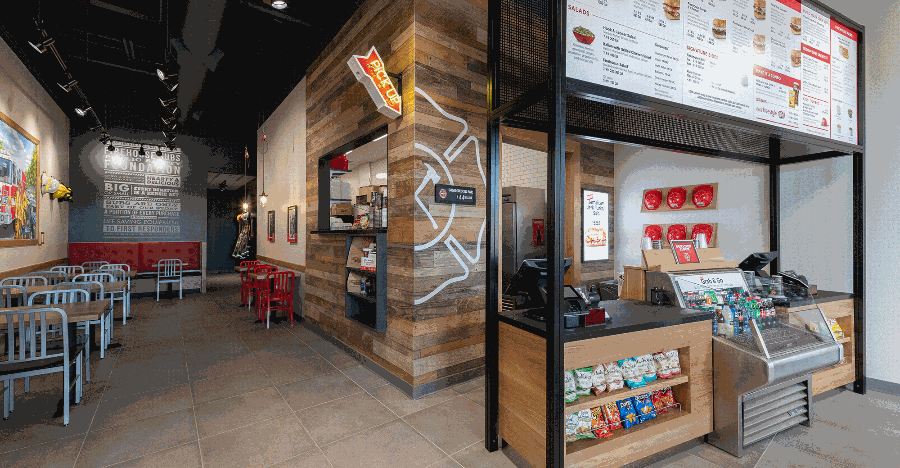 For Firehouse Subs, brand consistency and quality control across all their locations—whether nationally or globally—are top priorities. As with other leading brands, a great customer experience must include a consistent experience.
Their commitment to creating high-quality products with great taste means sourcing only the best quality ingredients, innovating, and using technology to their advantage—which all adds up to a great customer experience. Furthermore, they understand that, to provide the best experience possible, a solid commitment to brand culture is non-negotiable. One way to improve customer experience is to make customers feel that they're part of something bigger.
"Firehouse Subs is a daily affirmation that serving good food and doing good belong together" - Greg Delks, vice president of franchise development.
For this, Firehouse Subs is highly committed to public safety, which they achieve through their Firehouse Subs Public Safety Foundation. The mission: provide funding, life-saving equipment, and educational opportunities for first responders. For customers, no doubt this creates a sense of pride when they support their local Firehouse Subs.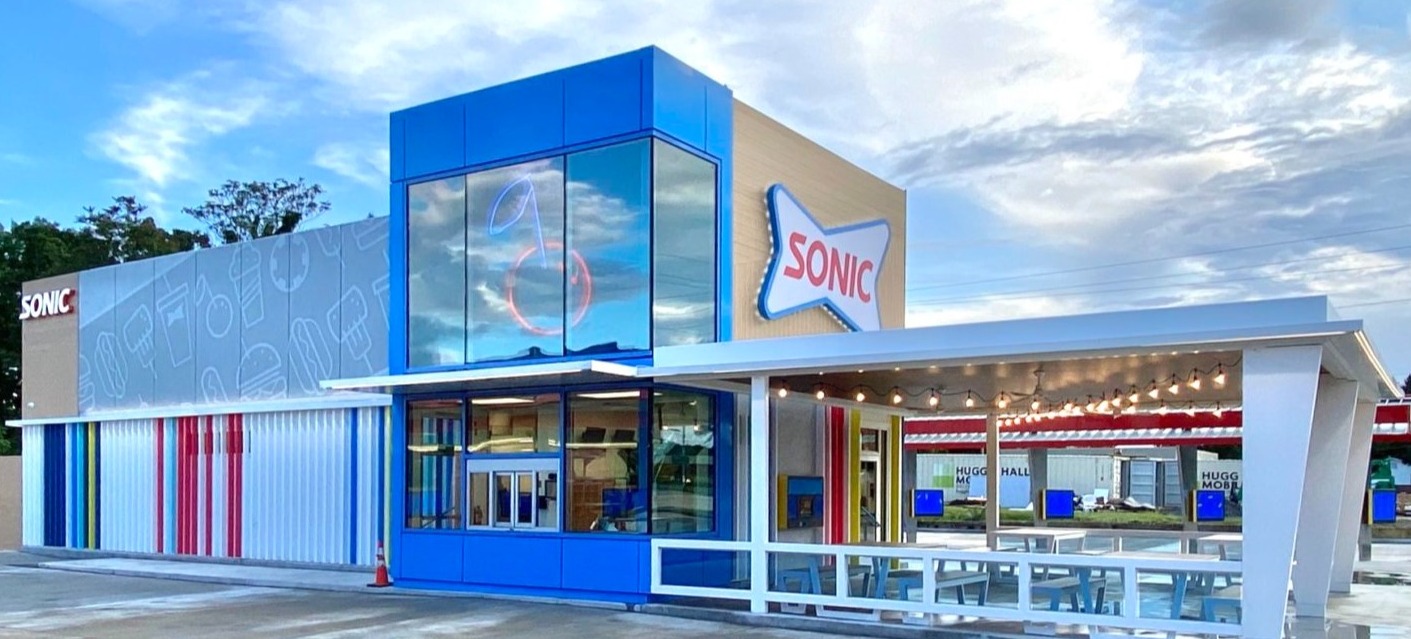 Sonic, the much-loved drive-in fast-food chain, managed to draw large numbers of customers to its drive-ins last year, despite the pandemic. Their sales increased by an impressive 21% to $5.7 billion!
Customer experience was a big part of this success, especially in terms of friendliness and good service—something that was greatly welcomed in such an uncertain time. And good service relies on technology, but only so far as the traditional roles of carhops were not altered or eliminated.
In essence, their digital infrastructure forms part of the customer experience and plays a large role in quick-service personalization. For example, Sonic uses technology to their advantage with their "order ahead" concept, enabling guests to customize their orders as well as how they want to receive them (i.e., by stall or drive-thru).
Sonic applies technology to their advantage for product innovation (e.g., by creating the Twisted Texan Cheeseburger, a Strawberry Cheesecake Blast, and many others). This fast-moving product innovation is only possible with powerful Product Lifecycle Management software to streamline the process.
Sonic has also introduced AI-powered voice assistants to provide faster customer service. This enhances customer experience by way of convenience and removing time spent waiting in line. In other words, consumers control what they want, when they want it, how they want it, and even where they want it (getting into any stall).
From opening up a mobile app, using "order ahead technology", and placing and customizing orders, to pulling into stalls, uploading the order number, and sitting back and waiting for food, the Sonic customers' experience is greatly enhanced with digital transformation.
4. Checkers & Rally's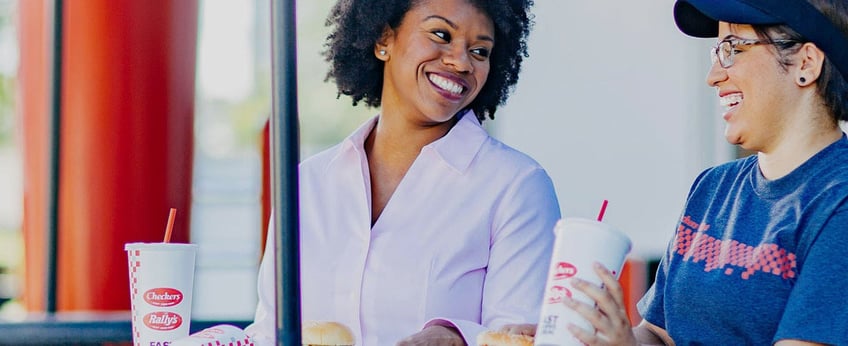 For Checkers & Rally's, a great customer experience starts in the kitchen. Specifically, the speed and efficiency with which the kitchen can deliver the experience guests want, namely, great food.
They're so focused on this that CEO Frances Allen refers to their kitchens as the engines of their growth. And for this, productivity ranks high on their list. But a problem they had was that their kitchens were not "employee-friendly" enough. New equipment was acquired as new products were developed, but this equipment wasn't properly integrated with other equipment as a whole.
So when the company did a kitchen makeover, they focused on a more employee-friendly design. Properly designed kitchens now allow them to add new menu innovations with ease. Easy-to-use kitchens mean higher efficiency, and with increased productivity, comes improved customer experience.
Also, their innovative use of technology and delivery has seen delivery orders match on-premise orders, something that is particularly beneficial in light of pandemic paranoia.
In essence, creating as many efficiencies as possible is at the heart of providing a great customer experience at Checkers & Rally's, and digital technology is leading the way, according to CEO Frances Allen.
Better speed and accuracy, better products, and better employee and guest experience. Enough said.
5. Buffalo Wild Wings

A great customer experience is high on the priority list for Buffalo Wild Wings, so much so, they've dubbed it the "Buffalo Wild Wings experience", according to Carolyne Chalupnik (franchise sales director).
This goes hand in glove with technology. In fact, the link between technology and customer experience has been a factor since the early years of Buffalo Wild Wings, says President and CEO Sally Smith.
One way they continually enhance customer experience is by actively researching and listening to what their consumers want. For this, they leverage a variety of technologies and digital platforms to enhance their brand experience. For example, Buffalo Wild Wings has a focus group, called "The Huddle" or MVPs, by whom they run new ideas such as promotions or ads. The group then gives feedback (usually in real-time), which is used to further enhance CX.
Technology further improves the customer experience by making use of tablets (for placing and paying for orders, playing arcade games, accessing sports statistics, and even a jukebox for selecting restaurant songs), enhanced fantasy sports and competitive gaming, B-Dubs TV Network (a proprietary television network), and immersive experiences (charging stations, personalized sound, mobile payments, etc.).
Also, in light of the pandemic where health and safety have become big concerns, Buffalo Wild Wings have incorporated contactless payment and curbside pick-ups to enhance the customer experience by not having guests touch any surfaces.
The key to a great customer experience, according to Buffalo Wild Wings, is to personalize it. Knowing the customer's favorite teams, sports, sauces, etc., means an unbeatable restaurant experience can be delivered since it's essentially tailored to consumer needs.
Combine this with great customer service and it improves customer satisfaction, leads to brand loyalty, and creates success.
6. RaceTrac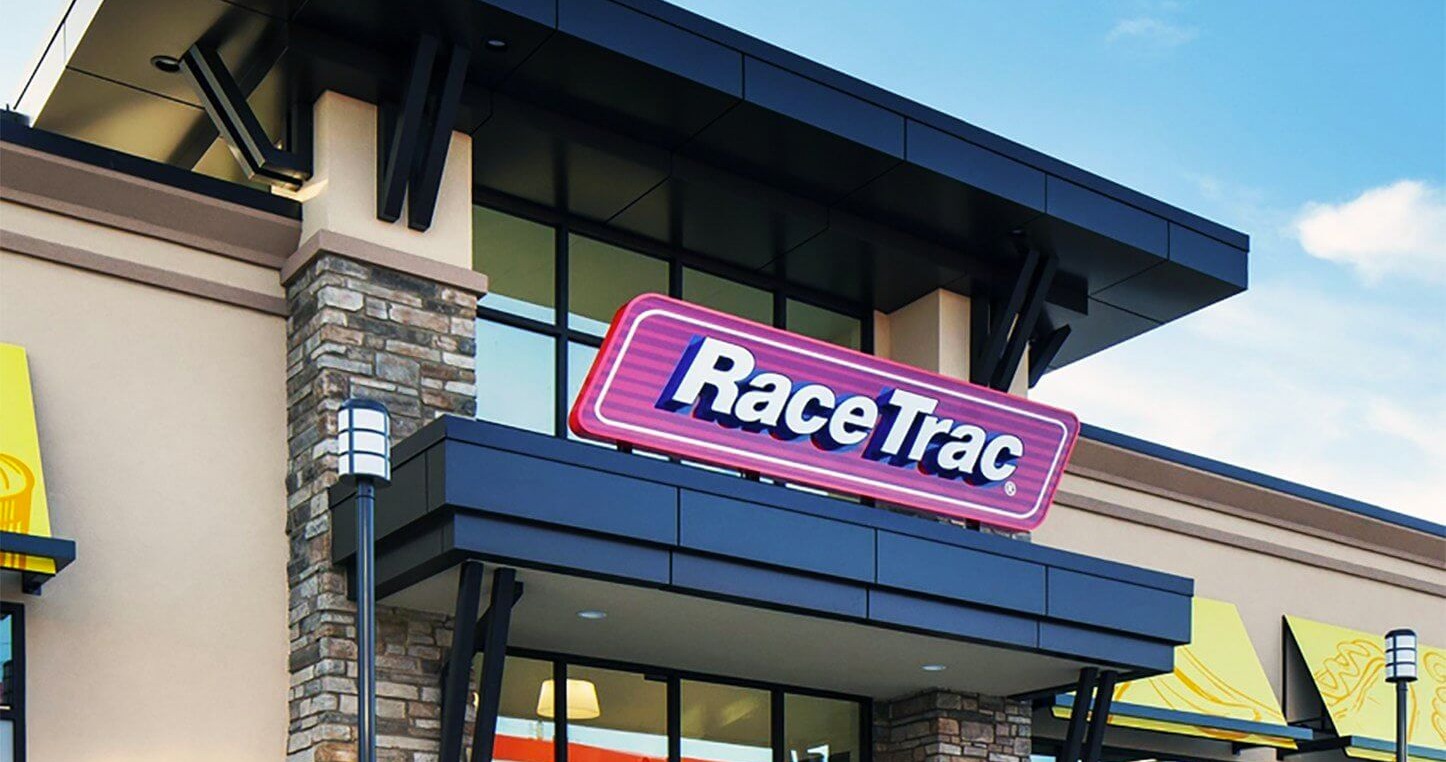 Fresh food, made the way guests want it, is how RaceTrac is creating an unbeatable customer experience. And, they're pioneering an innovative new way to use digital technology for streamlining the process, which they term the "deli concept".
How it works is simple: customers use a touchscreen kiosk to customize meals, then place the order, and watch as their food is prepared fresh by staff right in front of their eyes.
Personalizing the experience is at the heart of the matter: from customizing breakfast sandwiches to personalized pan pizza and pizza slices, RaceTrac makes sure their guests get what they want.
Speed and efficiency are top priorities for improving customer experience, and RaceTrac ensures their sandwiches are delivered within five minutes by having at least two kitchen employees working continually.
RaceTrac knows their guests expect quality and the company is dedicated to delivering whatever it takes. This is another way in which they enhance their customer experience—they use top-quality products.
According to Steven Turner (Director of Food and Beverage), they want to provide" the best-quality hot dog" they possibly can. Offering such quality is only possible when partners are fully compliant with RaceTrac's needs, and by being able to track ingredients, formulations, and finished product standards from all suppliers. And Turner confirms that guests respond positively each time quality improves.
Together with this, their fresh-toppings bar makes guests feel they're actually part of the foodservice experience, since they can optimize and control their own selections.
And as with other leading brands, RaceTrac knows that happy employees mean optimal service, which leads to exceptional customer experience. They want their employees to enjoy their work every day and to thrive in their careers, so much that they've affectionately dubbed their concept "The RaceTrac Way".
A remarkable customer experience is tightly coupled to company success, and leading brands are constantly seeking to improve customer experience. While each brand has its own unique way in which they enhance their guests' experience, there are consistent themes that all brands can borrow from and adopt.
Some take-home concepts for creating the best customer service experience—a type of customer experience strategy best practices, if you will—include:
Leverage technology to your advantage: e.g., make use of innovative concepts such as "order ahead", contactless payment, and curbside pick-ups.

Make guests feel they're part of something bigger, and also make them feel they're in charge by allowing them to customize their orders.

Ensure your employees are happy; this ensures better performance, leading to a higher level of employee engagement, and ensures that customers feel valued.

Source top quality products and ensure high brand standards; make sure partners/vendors comply with all your needs and brand standards.

Be consistent: a great customer experience includes a consistent experience. CX is enhanced when customers get a consistent experience no matter where they go.

Ensure an uninterrupted supply chain; digital technology is essential for this.

Make sure your kitchens are efficient so that they can deliver products with speed and accuracy. In essence, create as many efficiencies as possible.

Personalize: tailor the experience to your consumer's needs by doing some research on their likes and dislikes (their favorite teams, sports, foods, drinks, etc.).
Customer Experience is everything to your customers. Leverage digital transformation to help keep your customers and staff happy, and your business thriving.
Want to learn more? See how other leading brands are using digital technology to improve product quality, manage their supply chains, and ultimately deliver a remarkable customer experience.